2-day workshop in Ft. Collins, Colorado
GenEd provided a 2-day professional development workshop, June 6-7, for Colorado's Poudre School District's high school history teachers. Along with learning about the Armenian Genocide, presenters provided a look at other cases, including the Native American genocide, the Holomodor in Ukraine, and the Holocaust, and how they can be taught comparatively.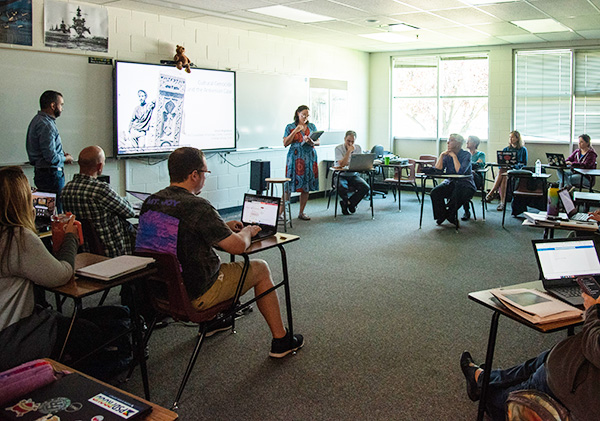 Full-day workshop in Norwell, Massachusetts
History and English Language Arts teachers at South Shore Charter School in Norwell, MA, attended GenEd's full-day workshop, helping English Language Arts and History teachers incorporate Armenian Genocide literature and lessons into their curriculum.
Houry Boyamian, immediate past-principal of Watertown's St. Stephen's Armenian school, presented her father's story of escape from a brutal Turkish orphanage, told in his memoir "Goodbye, Antoura."
Dr. Dikran Kaligian presented the history of the Armenian Genocide, its denial, and its continuing geopolitical ramifications.
CA Teachers Collaborative for Holocaust and Genocide Education Summer Institute, June 26-28
California Teachers Collaborative held its first-ever Summer Institute for California teachers on teaching the Holocaust and genocide.
GenEd led a workshop introducing teachers from all over the state to its new teaching unit, "Resistance, Agency, and Empowerment." Developed by GenEd Teacher Fellow and Felton, CA, social studies teacher Cindy Martinez, the unit includes lessons about the different forms of resistance to genocide before, during, and after the Armenian Genocide of 1915. Joining Martinez to facilitate the workshop and meet other educators of the Collaborative were GenEd Education Director Kerri Flynn, and GenEd graduate student assistant, Christina Chiranian.
The 3-day event included numerous interactive workshops given by various genocide education-focused organizations and took place at the University of Southern California Shoah Foundation in Los Angeles.
GenEd's new Teacher Fellows ready for Armenia!
The 2023 GenEd Teacher Fellowship Program is less than two weeks away! The fifteen 2023 Teacher Fellows, who teach in 14 different states, recently had the opportunity to meet on a video call with their 2022 counterparts, getting valuable tips and insights from the inaugural participants in the program.