Pasadena High School Mounts Commemorative Art Installation
 Hollister Teacher Fights Genocide Denial with Op-Ed
Pasadena High School's Integrative Art Installation
Pasadena High School students have created a unique, large-scale art installation in commemoration of the Armenian Genocide. Spread across the school's front fence, the artwork consists of silhouettes depicting scenes from the Armenian Genocide, haiku poems, and paintings on the same theme.
>
The Genocide Education Project conducted a full-day teacher-training workshop on the Armenian Genocide in 2013, co-hosted by the Pasadena Unified School District and the Armenian National Committee of America – Pasadena.
The art installation is a project of The Creative Arts, Media, And Design (CAMAD) pathway at Pasadena High School, including the Graphic Communications Academy (GCA) and the Visual Arts and Design Academy (VADA), which collaborated with Social Studies and English teachers to build awareness about Armenian Genocide.
"I personally did not hear about the Armenian Genocide until my first year teaching at Pasadena High School (2015) when several of my Armenian students were absent on April 24, 2015 to attend the 'March for Justice' in Los Angeles," said graphic arts teacher, Genely Chan.
Students took a field trip to the Museum of Tolerance. Social Studies teacher, William Jenkins, taught them about the Armenian Genocide. Mayte Hernandez's English class created haikus, Genely Chan's graphic arts students created the large silhouette, and Lucy Manalo's art class created the paintings.
GenEd Workshop Teacher Fights Armenian Genocide Denial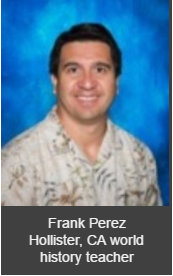 A Hollister, California, high school teacher who attended a Genocide Education Project teacher-training workshop last April, put his training to work in an opinion piece published in the San Jose Mercury News.
In the April 26th piece, "Armenian Genocide is a fact, no matter what Turks say," world history teacher Frank Perez responds to a full-page ad the paper published promoting denial of the Armenian Genocide. Perez provides a brief history and addresses the dangers of denial.