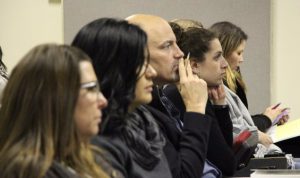 Glendale, CA – The Glendale Unified School District and The Genocide Education Project (GenEd) hosted a 2-day teacher-training workshop on Genocide education, using the Armenian Genocide as a case study.
"In my 20 years of teaching in this district, this workshop was by far the best, most informative, and most beneficial workshop of my career," wrote Angelina Dawson, a history teacher at Rosemont Middle School.
In an email after the workshop, Dawson thanked the district for "providing outstanding speakers, short films, and plentiful resources for us to use in the classroom. They were organized, efficient, knowledgeable, and so kind."
Held at Glendale High School, January 17-18, the workshop provided teachers foundational training and exposure to multiple aspects of genocide teaching methodology and strategies. The new California History-Social Science Framework emphasizes the importance of Genocide Education for all students, with an expanded section on the Armenian Genocide.
Gaby Orve-Perea, a 10th Grade World History teacher at Glendale High School said, "This workshop was very beneficial to teachers as it provided excellent resources and lesson plans to support genocide education and the new California History-Social Science Framework. I look forward to integrating what I have learned over the past two days into my lessons."
Primarily designed for 7th and 10th grade World History teachers, GUSD principals, 10th grade English teachers and department heads from neighboring school districts were also invited to attend. More than 40 educators attended each of the days.
District Superintendent, Winfred B. Roberson, Jr., said, "We are proud to offer this workshop and provide valuable, in-depth historical background and instructional resources about genocide for our teachers to take back to the classroom. Additionally, this training provides us a great opportunity to develop a common understanding that supports all students' social and emotional well-being."
Workshop Speakers included:
Dr. Levon Marashlian, professor of History, Glendale Community College
Dr. Vahram Shemassian, professor of Armenian Studies, CSUN
Sara Cohan, Armenian Education & Outreach Specialist, USC Shoah Foundation; GenEd Advisor
Dr. Alina Dorian Principal, Rose and Alex Pilibos School
Berj Parseghian, history department chair, Mesrobian School
Dawn MacKeen. journalist and author
Patil DerHovagimian, English language Arts teacher, Rose and Alex Pilibos School
Anthony Slide, film historian and author
Kay Mouradian, author and filmmaker
Naré Mkrtchyan and Iliana Guevara, documentary filmmakers
Roxanne Makasdjian, Exec. Dir., GenEd