On Thursday morning at 4:00 am the Armenian Cultural Center building adjacent to St. Gregory the Illuminator Armenian Church was set on fire. The center housed the church offices, Sunday school, and the offices of numerous organizations including The Genocide Education Project.

Police and Fire Department officials examining the charred interior said they found evidence of at least 3 locations in the building where fires were set.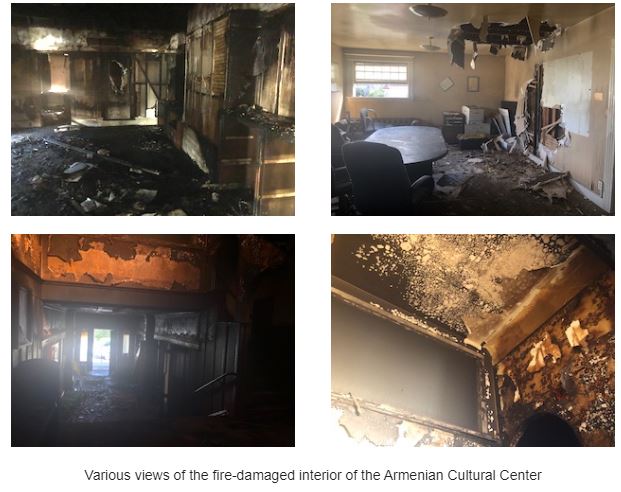 The arson attack comes less than two months after San Francisco's KZV Armenian-American school was attacked with profane and threatening anti-Armenian, pro-Azeri graffiti across the length of its front wall. The community and public officials surmise the two crimes and their perpetrators are connected.
The damage was extensive, including direct fire damage to major sections of the building and severe smoke damage to the remainder. It is yet unclear whether any of the substantial educational materials in the GenEd office can be salvaged. The building also houses the Hamazkayin Armenian Cultural Society's large library of Armenian subject-matter books, many rare and out of print.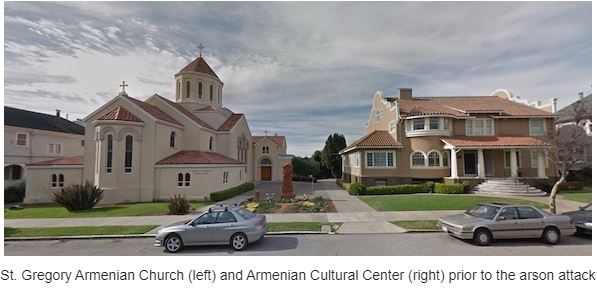 Through the years, GenEd held numerous events in the Center, including a full-day professional development workshop in 2017 for educators from across the nation, as part of the National Council for the Social Studies annual conference. Attendees gathered to learn how to teach about the Armenian Genocide, take an educational tour of St. Gregory Church, and enjoy an Armenian meal prepared by the church's Ladies Auxilliary.
"Fifteen years ago, I first entered the Armenian Cultural Center to meet GenEd founders Roxanne Makasdjian and Raffi Momjian and sign on to become GenEd's first Education Director," said Sara Cohan. "I remember feeling at home in this little Armenian oasis filled with books about our history and the smell of Armenian coffee wafting through the halls. That beautiful home for so many is now ash because of hate and intolerance—the concepts I have tried to counter through educational initiatives throughout my career."

The burning of the Armenian Cultural Center marks the amplification of hate crimes against Armenians in the United States and is part of a pattern of crimes targeting Armenian communities internationally. Armenian schools and landmarks in the U.S. have been desecrated, and in 2017 Armenians peacefully protesting in Washington, DC were attacked and beaten by Turkish presidential guards and Turkish-Americans.

Roxanne Makasdjian, the Executive Director of The Genocide Education Project, said "This will not deter us from our mission to teach about the history of genocides and the impact of genocide in subsequent generations. It is an example of patterns of hate that continue against victims of genocide and mass violence when perpetrators are not brought to justice."